Start of main content
90% of predictions come true – IET India's Future of Work Playbook
Published: Fri 18 Dec 2020
Most of predictions started coming true in just 6 months and today about 90% of the predictions are already in place. Some of the key trends predicted were – increased asset utilisation in homes, digital classrooms and virtual learning being the new norm and replacement of the physical workplaces by digital workplaces as the primary environment. You can see a complete list of predictions in the graphic.
Shekhar Sanyal, Country Head and Director, IET India said, "I am delighted to see that most of our predictions regarding how the nature of work, workplace and workforce will shape in the future have come true, rather at lightning speed. When we were working on the playbook, we were under the assumption that these changes would reflect in the next 2-3 years. However, the pandemic changed the tides and made the future of work a new normal, rather sooner than later.
During the last few months, we have seen that the impact of the future of work has varied across industries, geographies and business models and that it has already become the new normal. We can clearly see that future of work will continue to shape organisation policies and structures making the importance of IET's Future of Work Playbook very high for decision-makers. This playbook not only presents an overview of the key trends, predictions and evidence on the future of work but also provides practical insights to help organisations and management make informed decisions. We at the IET hope that this playbook will help your transition easier and help you swiftly navigate through the demands of tomorrows' jobs."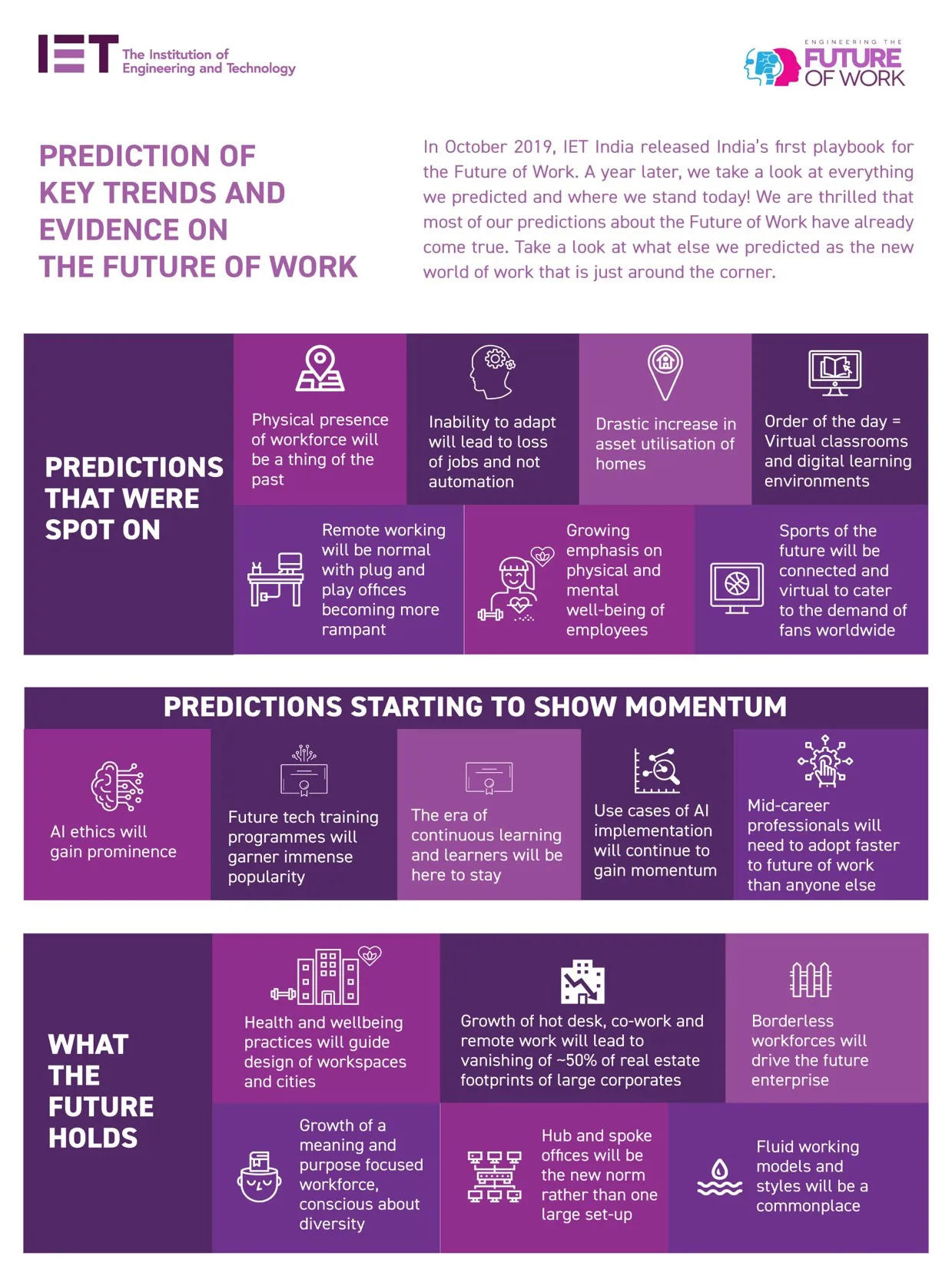 Anitha Kaveri, Head – Sectors and Special Projects, IET India said, "It has been a rollercoaster ride – since last October when we released the playbook. Month by month, we saw the predictions come true in front of our eyes. It only goes on to prove that the signs of this transformation were already there in the industry. The pandemic has just accelerated the whole transition and disrupted the world of work. We are excited by the opportunities these changes present and are keen to continue our work with the ecosystem players to shape future of work in India."
IET's Future of Work Playbook
An exclusive guide to navigating through the evolving world of work.
Complete the online form to download a copy.